Have you ever noticed this difference between Moree and Roma?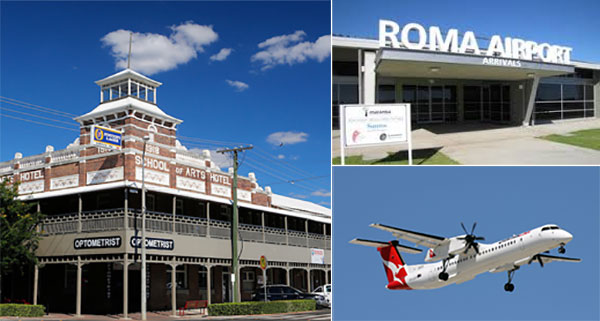 If you want to fly with Qantas from Sydney to Moree in northern NSW tomorrow there is one flight a day.
Yet if you want to fly from Brisbane to Roma there are 11 flights to choose from.
Moree has a population of almost 10,000 people and Roma almost 7000 people but the big difference between the two towns is natural gas development from coal seams.
While Moree locals are fighting to keep just one daily service airborne, Roma thrives with activity – a direct result of natural gas development creating jobs and business.
The new Roma airport is Maranoa Council's largest project to date. The $14 million upgrade was supported and funded by the Queensland Government, Australian Pacific LNG and Santos. It boasts a new terminal building, 274 car park spaces with security lighting and a stronger runway that can handle larger aircraft particularly in times of natural disaster.
About 140 kilometres to the east of Roma sits the even smaller town of Miles with a population of approximately 1000 people. It too has an airport.
The upgraded aerodrome is owned and managed by Western Downs Regional Council. The runway upgrade project, at a total cost of $20 million at completion, was managed by Origin Energy on behalf of Australia Pacific LNG. As part of the upgrade the runway has been extended, widened and strengthened, with lighting to support all weather and night/day operations, and a new surface designed to handle larger 70-seat aircraft.
While paving the way for larger aircraft it also reduces pressure on local roads.
Natural gas makes a difference to infrastructure.
---
The following letter will be sent to people who seek to represent you in Federal Parliament.
---
Dear [title] [surname],

Australia is blessed with abundant, affordable, reliable, and safely accessible natural gas reserves.

I want you, as my federal parliamentary representative, to support the Australian natural gas industry's development so that it may put downward pressure on energy prices and bring on the next wave of Australia's prosperity.

The oil and gas industry is currently spending close to $200 billion on new projects that have so far generated 100,000 jobs across the Australian economy; which will see the industry's tax contribution rise to almost $13 billion per annum by 2020; and which will underpin the Australian economy for decades to come. We need to also support the next wave of projects that are today under consideration.

I am sending you this because I want to see action on creating more Australian industry and jobs.

We can't take our prosperity for granted.


Sincerely,

Name
Suburb, postcode