The perverse impact of anti-gas ideology is becoming clear.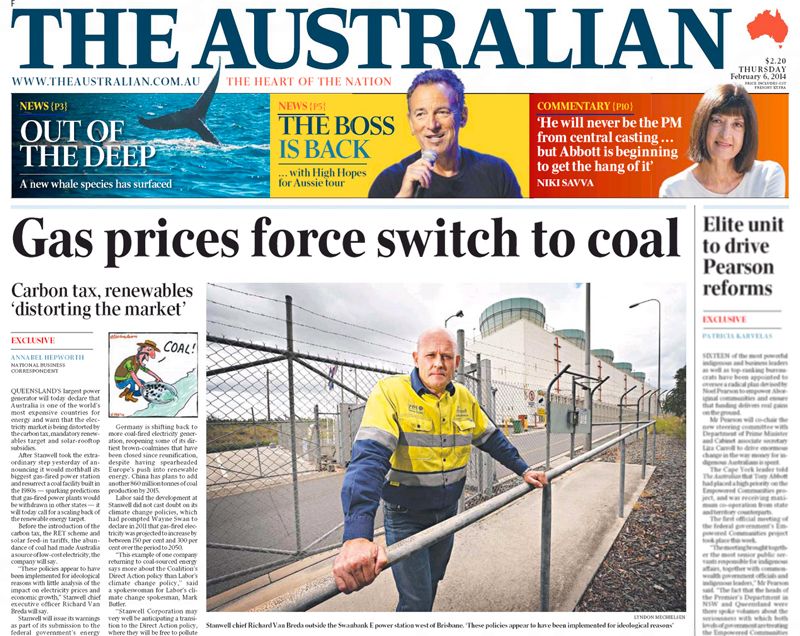 Natural gas is up to 70% cleaner than coal when used for energy. America's recent boom in natural gas discoveries and use has been praised by President Obama and his Administration for not only underpinning the country's economic recovery, but also driving greenhouse gas emissions down to levels not seen since the early 1990s.
Yet in Australia, natural gas is demonised by The Greens and other groups ideologically opposed to energy production from sources other than wind and solar.
They treat 'possible' pollution reduction options (natural gas) as the enemy of the 'perfect' (wind and solar). Their activism has made it harder for gas companies to find and develop gas supplies, and has caused renewable energy targets and subsidies to become more widespread.
And the result is becoming clearer.
The front page of today's edition of The Australian says Queensland's largest power generator will today announce that pro-renewable energy policies have caused it to "mothball its biggest gas-fired power station and resurrect a coal facility built in the 1980s, sparking predictions that gas-fired power plants would be withdrawn in other states."
The article also says: "Germany is shifting back to more coal-fired electricity generation, reopening some of its dirtiest brown-coalmines that have been closed since reunification, despite having spearheaded Europe's push into renewable energy. China has plans to add another 860 million tonnes of coal production by 2015."
If The Greens and their fellow travellers were serious about reducing emissions, they would be pushing for the use of more natural gas – not less. What is clear, is that their blind 'renewables or nothing' position, is not taking them where they thought it would.
---
The following letter will be sent to people who seek to represent you in Federal Parliament.
---
Dear [title] [surname],

Australia is blessed with abundant, affordable, reliable, and safely accessible natural gas reserves.

I want you, as my federal parliamentary representative, to support the Australian natural gas industry's development so that it may put downward pressure on energy prices and bring on the next wave of Australia's prosperity.

The oil and gas industry is currently spending close to $200 billion on new projects that have so far generated 100,000 jobs across the Australian economy; which will see the industry's tax contribution rise to almost $13 billion per annum by 2020; and which will underpin the Australian economy for decades to come. We need to also support the next wave of projects that are today under consideration.

I am sending you this because I want to see action on creating more Australian industry and jobs.

We can't take our prosperity for granted.


Sincerely,

Name
Suburb, postcode