A Tale of Two States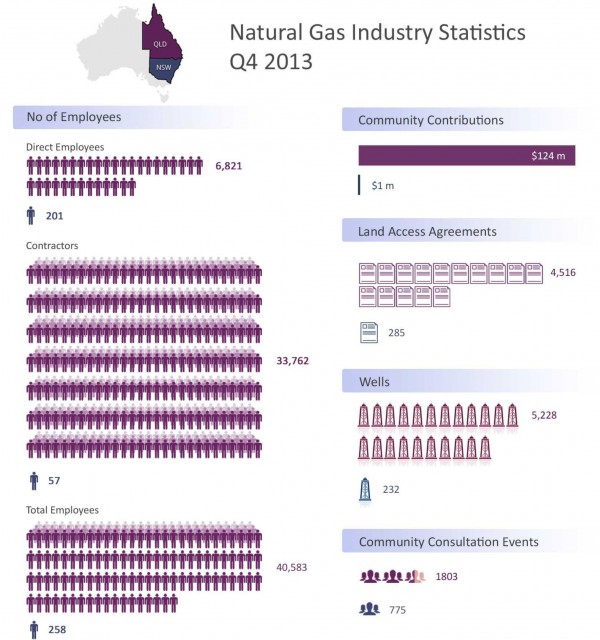 Wow – It's extraordinary what sensible policy can achieve.
Just five years ago, Queensland's natural gas industry was fledgling – a few hundred employees and a few companies with big ideas.
Today almost $70 billion worth of natural gas projects are under construction employing more than 40,000 people and contributing $124 million to regional community projects and charities.
The story in NSW is somewhat different. Despite abundant reserves the state continues to imports 95 per cent of its gas from interstate.
As a result regional communities are missing out – missing out on jobs, on business, on investment, on an opportunity for farmers to earn additional income through mutually beneficial land access arrangements. Stagnation threatens.
The proof is in the pudding. Natural gas, communities and agriculture can work side by side – it's happening now.
Support Australia's natural gas industry
Remind your local representative to support the natural gas industry by sending them a link to the following video explaining why the industry deserves their support.
---
The following letter will be sent to people who seek to represent you in Federal Parliament.
---
Dear [title] [surname],

Australia is blessed with abundant, affordable, reliable, and safely accessible natural gas reserves.

I want you, as my federal parliamentary representative, to support the Australian natural gas industry's development so that it may put downward pressure on energy prices and bring on the next wave of Australia's prosperity.

The oil and gas industry is currently spending close to $200 billion on new projects that have so far generated 100,000 jobs across the Australian economy; which will see the industry's tax contribution rise to almost $13 billion per annum by 2020; and which will underpin the Australian economy for decades to come. We need to also support the next wave of projects that are today under consideration.

I am sending you this because I want to see action on creating more Australian industry and jobs.

We can't take our prosperity for granted.


Sincerely,

Name
Suburb, postcode