Clicktivists conned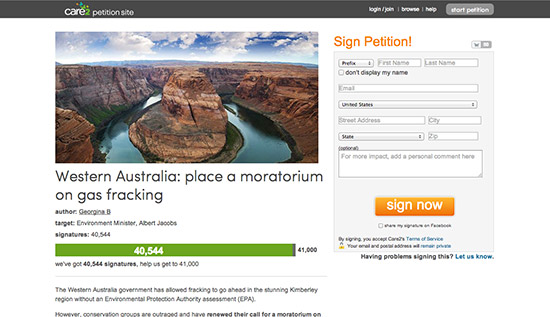 Here's great example of anti-gas activists caught bending the truth.
In this case, Arizona's iconic Horseshoe Bend on the Colorado River is being used in an online petition calling for a moratorium on natural gas development in Australia's Kimberley.
The petition's authors are either profoundly confused or very willing to mislead.
People have clicked their support, presumably in the belief that the landscape shown above is under threat. It's not. And neither is the Kimberley according to WA's Environmental Protection Authority.
The truth is safe, clean, reliable natural gas has the potential to bring investment and jobs to a region that is desperate for economic opportunities.
Send your own message to the WA Environment Minister.
Dear Minister,

I support the Western Australian Government's decision to allow companies to safely and responsibly explore the onshore gas potential of regional Western Australia. Don't let the misleading work of anti-development activists deny this region access to the jobs and opportunities natural gas is providing communities elsewhere in Australia.


Share this story:
---
The following letter will be sent to people who seek to represent you in Federal Parliament.
---
Dear [title] [surname],

Australia is blessed with abundant, affordable, reliable, and safely accessible natural gas reserves.

I want you, as my federal parliamentary representative, to support the Australian natural gas industry's development so that it may put downward pressure on energy prices and bring on the next wave of Australia's prosperity.

The oil and gas industry is currently spending close to $200 billion on new projects that have so far generated 100,000 jobs across the Australian economy; which will see the industry's tax contribution rise to almost $13 billion per annum by 2020; and which will underpin the Australian economy for decades to come. We need to also support the next wave of projects that are today under consideration.

I am sending you this because I want to see action on creating more Australian industry and jobs.

We can't take our prosperity for granted.


Sincerely,

Name
Suburb, postcode