Exit polling shows anti-gas campaigners missed the mark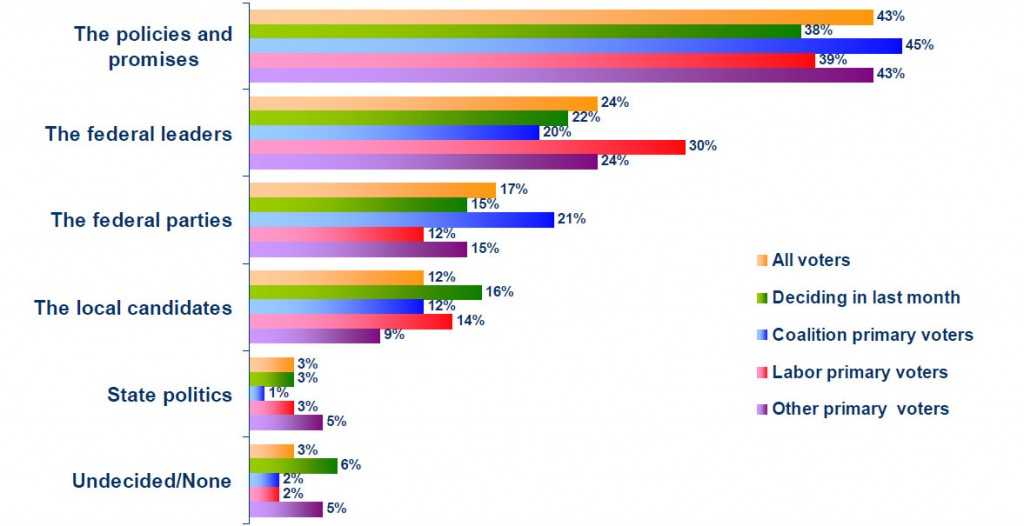 The Greens & the Katter Party campaigned heavily on natural gas issues: as did some ALP candidates in surveyed seats.
For some time, they have tried to tell Australia that natural gas development will be a key election issue and they tried to make this election a referendum on this issue.
To that end – the natural gas industry undertook this exit poll to test the credibility of their strategy.
Findings
Spontaneous issues driving vote (Pg. 5-6 in attached):
Partisan opinions of the parties & leaders
The economy
Immigration
Natural Gas issues scored ZERO per cent – even in the many seats polled which possessed anti-csg/anti-gas attention from both major & minor party candidates.
Prompted issues driving vote (Pg. 7):
The top issues (when voters were prompted) were:
The state of the economy
Cost of living, inc. the Carbon Tax
Immigration & asylum seekers
Education
Health
Policy costings & spending
Even when voters were prompted, natural gas issues scored ZERO per cent
Attachment: Federal election day poll 7 September 2013 summary
---
The following letter will be sent to people who seek to represent you in Federal Parliament.
---
Dear [title] [surname],

Australia is blessed with abundant, affordable, reliable, and safely accessible natural gas reserves.

I want you, as my federal parliamentary representative, to support the Australian natural gas industry's development so that it may put downward pressure on energy prices and bring on the next wave of Australia's prosperity.

The oil and gas industry is currently spending close to $200 billion on new projects that have so far generated 100,000 jobs across the Australian economy; which will see the industry's tax contribution rise to almost $13 billion per annum by 2020; and which will underpin the Australian economy for decades to come. We need to also support the next wave of projects that are today under consideration.

I am sending you this because I want to see action on creating more Australian industry and jobs.

We can't take our prosperity for granted.


Sincerely,

Name
Suburb, postcode