Greens say no to jobs on the day car manufacturing hits the brakes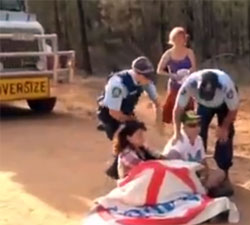 On the very day Toyota announced its departure from Australia – a move that reportedly puts 44,000 jobs at risk – the Greens were spruiking their formal endorsement of civil disobedience to stop natural gas workers getting on with their jobs.
| | | |
| --- | --- | --- |
| On the very day Toyota announces this: | | The Greens formally vote to support this: |
In an interview with ABC Radio yesterday, NSW Upper House Greens MP Jeremy Buckingham said the Greens state Conference had formally voted to "implicitly" support breaking the law via the kind of protests that put people in danger, stop men and women getting to work, divert valuable police resources from where they're needed most, stop the industry delivering energy to households, and threaten to shut down regional projects.
The gas sector in Australia is a high tech industry that can fill the gap left by a declining manufacturing sector. The actions of protesters threaten an industry that is building $200 billion worth of new projects that have already created 100,000 jobs across the economy.
Please encourage your friends and family to send a message that they don't want us to fall behind.
Our petition and more information can be found at www.ournaturaladvantage.com.au
---
The following letter will be sent to people who seek to represent you in Federal Parliament.
---
Dear [title] [surname],

Australia is blessed with abundant, affordable, reliable, and safely accessible natural gas reserves.

I want you, as my federal parliamentary representative, to support the Australian natural gas industry's development so that it may put downward pressure on energy prices and bring on the next wave of Australia's prosperity.

The oil and gas industry is currently spending close to $200 billion on new projects that have so far generated 100,000 jobs across the Australian economy; which will see the industry's tax contribution rise to almost $13 billion per annum by 2020; and which will underpin the Australian economy for decades to come. We need to also support the next wave of projects that are today under consideration.

I am sending you this because I want to see action on creating more Australian industry and jobs.

We can't take our prosperity for granted.


Sincerely,

Name
Suburb, postcode