Guess what's driving economic growth?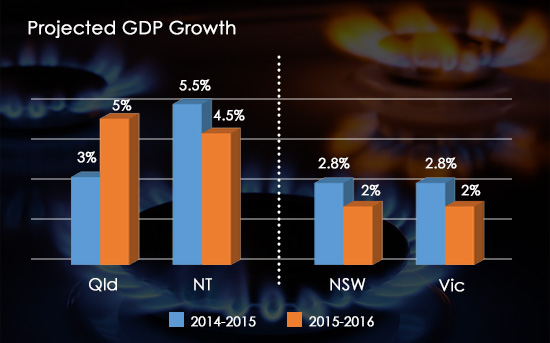 If you've ever wondered what really makes a difference to economic growth in your state, a new Deloitte Access Economics report on how natural gas projects benefit state and territory economies might be a powerful reminder of why you support the industry.
In Queensland for example, $65 billion worth of natural gas mega-projects are behind an anticipated major economic boost as they will soon deliver cleaner energy to Asian markets and generate significant royalties for governments. That's funding that will help pay for much-needed hospitals, schools and roads.
Queensland's gross state product, the regional version of gross domestic product, is expected to grow around 3% this year then climb to 5% in 2015-16.
Similarly, the Northern Territory where the $34 billion Ichthys LNG project is under construction is tipped to post 5.5% growth this year then fall back to 4.5% the following year.
In Queensland and the NT, bi-partisan support and strong political leadership have set a sound platform for growth. By comparison, states with bans on natural gas exploration are at the bottom of the economic growth league table.
Both NSW and Victoria have a forecast rise of 2.8 % this year dropping back to 2% in 2015-16.
Jobs and our economic prosperity can't be taken for granted.
Please encourage your family and friends to get behind gas for growth at www.ournaturaladvantage.com.au.
Share this story:
Share this story:
---
The following letter will be sent to people who seek to represent you in Federal Parliament.
---
Dear [title] [surname],

Australia is blessed with abundant, affordable, reliable, and safely accessible natural gas reserves.

I want you, as my federal parliamentary representative, to support the Australian natural gas industry's development so that it may put downward pressure on energy prices and bring on the next wave of Australia's prosperity.

The oil and gas industry is currently spending close to $200 billion on new projects that have so far generated 100,000 jobs across the Australian economy; which will see the industry's tax contribution rise to almost $13 billion per annum by 2020; and which will underpin the Australian economy for decades to come. We need to also support the next wave of projects that are today under consideration.

I am sending you this because I want to see action on creating more Australian industry and jobs.

We can't take our prosperity for granted.


Sincerely,

Name
Suburb, postcode