Obama declares Natural Gas a Game Changer for America – what's stopping Australia doing the same?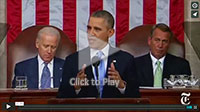 The US President today delivered a rousing endorsement of natural gas development during his State of the Union address.
"Now, one of the biggest factors in bringing more jobs back is our commitment to American energy," he said. "The all-of-the-above energy strategy I announced a few years ago is working, and today, America is closer to energy independence than we've been in decades.

One of the reasons why is natural gas – if extracted safely, it's the bridge fuel that can power our economy with less of the carbon pollution that causes climate change.  Businesses plan to invest almost $100 billion in new factories that use natural gas.  I'll cut red tape to help states get those factories built, and this Congress can help by putting people to work building fueling stations that shift more cars and trucks from foreign oil to American natural gas.  My administration will keep working with the industry to sustain production and job growth while strengthening protection of our air, our water, and our communities."
It's time our elected representatives showed similar support for Australia's natural gas industry.
The Australian gas industry is today spending $200 billion on new projects that will deliver enormous wealth and energy security to Australia and Asia. But it can be so much more. A further $100 billion worth of Australian gas projects are being considered and remain at risk from people who don't care if Australia misses out.
Please encourage your friends and family to send a message that they don't want us to fall behind.
Our petition and more information can be found at www.ournaturaladvantage.com.au.
For full text and video of Obama's State of the Union 2014 address, click here.
---
The following letter will be sent to people who seek to represent you in Federal Parliament.
---
Dear [title] [surname],

Australia is blessed with abundant, affordable, reliable, and safely accessible natural gas reserves.

I want you, as my federal parliamentary representative, to support the Australian natural gas industry's development so that it may put downward pressure on energy prices and bring on the next wave of Australia's prosperity.

The oil and gas industry is currently spending close to $200 billion on new projects that have so far generated 100,000 jobs across the Australian economy; which will see the industry's tax contribution rise to almost $13 billion per annum by 2020; and which will underpin the Australian economy for decades to come. We need to also support the next wave of projects that are today under consideration.

I am sending you this because I want to see action on creating more Australian industry and jobs.

We can't take our prosperity for granted.


Sincerely,

Name
Suburb, postcode