Radio Interview: Gas protesters blocked farmer access to their land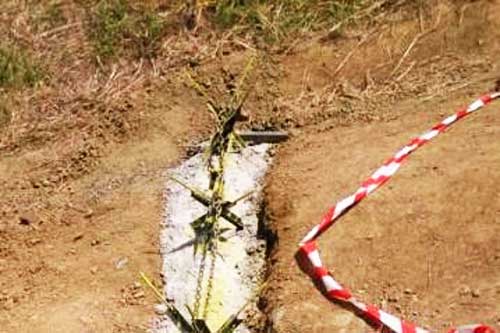 ABC North Coast Radio
Interview with landholder, Peter Graham, Bentley, Richmond Valley, Northern NSW.
Listen to the interview here:

—
Download the audio here: click to download.
Peter Graham says nearby protesters are jeopardising public safety. Protesters have installed spikes on his access road. Mr Graham says the move follows another incident late last month, when metal pickets were driven into the road surface.
"..Now they've gone another step and put these dangerous spikes, and they are dangerous spikes, that they've put in the roadway to stop trucks 
"But to me it's more of a safety for a person, them or ourselves, but they are such a permanent structure that it's going to be difficult to remove this issue now.
"They're right in the driveway of our entry into our property.
"Look there's no doubt that there is another entrance, but this is one of the main entrances that we use when we're moving livestock or moving machinery.
" Lock the Gate tell us that they're not interfering with the farmer, but what they don't understand is how an operating farm works."
---
The following letter will be sent to people who seek to represent you in Federal Parliament.
---
Dear [title] [surname],

Australia is blessed with abundant, affordable, reliable, and safely accessible natural gas reserves.

I want you, as my federal parliamentary representative, to support the Australian natural gas industry's development so that it may put downward pressure on energy prices and bring on the next wave of Australia's prosperity.

The oil and gas industry is currently spending close to $200 billion on new projects that have so far generated 100,000 jobs across the Australian economy; which will see the industry's tax contribution rise to almost $13 billion per annum by 2020; and which will underpin the Australian economy for decades to come. We need to also support the next wave of projects that are today under consideration.

I am sending you this because I want to see action on creating more Australian industry and jobs.

We can't take our prosperity for granted.


Sincerely,

Name
Suburb, postcode