Taking the message directly to Canberra – Australian jobs and natural gas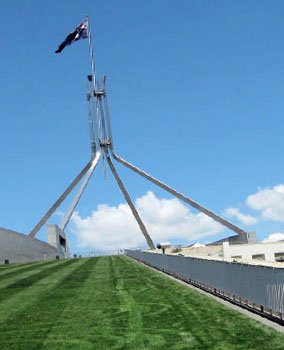 This week, we took the Our Natural Advantage campaign to Parliament House to highlight the economic importance of Australia's natural gas industry.
After almost 10,000 Australians laid the groundwork by sending petitions asking our federal politicians to support Australian jobs, we thought they should also get to see and meet the workers of this extraordinary Australian industry.
More than 50 oil and gas workers, landholders, small business owners and industry suppliers were able to explain, in their own words, what industry means to them, their businesses and their communities.
More than 40 MPs met with delegation members and we remain grateful for the opportunity and welcome reception on such a busy parliamentary sitting day.
Many were surprised to learn Australia's natural gas industry has potential to attract a further $180 billion investment over the next 20 years while creating 150,000 jobs in the process.
However, there are no guarantees. Some people don't care enough about our economic future, about unnecessary regulation, or increasing global competition.
At a time when jobs are disappearing from a number of other industries, now is the time to show your support for natural gas – a cleaner energy source being delivered to Australia and the world.
Please encourage your friends, work colleagues and family to join our campaign by signing the petition at: www.ournaturaladvantage.com.au.
---
The following letter will be sent to people who seek to represent you in Federal Parliament.
---
Dear [title] [surname],

Australia is blessed with abundant, affordable, reliable, and safely accessible natural gas reserves.

I want you, as my federal parliamentary representative, to support the Australian natural gas industry's development so that it may put downward pressure on energy prices and bring on the next wave of Australia's prosperity.

The oil and gas industry is currently spending close to $200 billion on new projects that have so far generated 100,000 jobs across the Australian economy; which will see the industry's tax contribution rise to almost $13 billion per annum by 2020; and which will underpin the Australian economy for decades to come. We need to also support the next wave of projects that are today under consideration.

I am sending you this because I want to see action on creating more Australian industry and jobs.

We can't take our prosperity for granted.


Sincerely,

Name
Suburb, postcode