What is America's secret to success on climate change?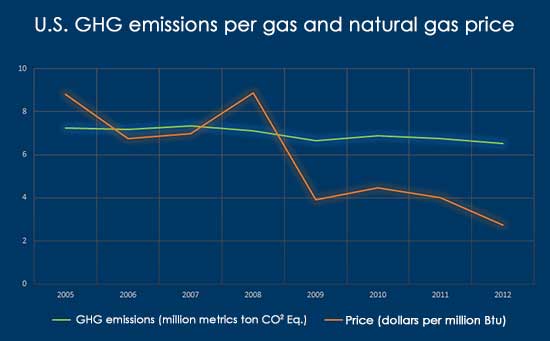 Prime Minister Tony Abbott has been in Washington this week and a lot of people are talking about climate change.
The Americans are making extraordinary progress in reducing greenhouse gas emissions and are on track to meet an emissions reduction target of 17 per cent by 2020.
Why?
The Greens and other anti-gas groups won't tell you about it, but America's success is in no small part due to that country's abundant, affordable and cleaner energy from natural gas and the fact it is now a key driver of a changing US energy landscape.
President Obama and the Americans clearly recognise that natural gas is part of the climate change solution.
With natural gas available for both domestic use and for export to the region, Australian natural gas is also playing its role as part of the climate change solution.
Have you got a friend or colleague who needs to know the real story behind America's carbon emissions reductions?
Send them this link:
www.ournaturaladvantage.com.au/news/what-is-americas-secret-to-success-on-climate-change
Share this story:
Source:
Henry Hub Natural Gas Spot Price (Dollars per Million Btu)
---
The following letter will be sent to people who seek to represent you in Federal Parliament.
---
Dear [title] [surname],

Australia is blessed with abundant, affordable, reliable, and safely accessible natural gas reserves.

I want you, as my federal parliamentary representative, to support the Australian natural gas industry's development so that it may put downward pressure on energy prices and bring on the next wave of Australia's prosperity.

The oil and gas industry is currently spending close to $200 billion on new projects that have so far generated 100,000 jobs across the Australian economy; which will see the industry's tax contribution rise to almost $13 billion per annum by 2020; and which will underpin the Australian economy for decades to come. We need to also support the next wave of projects that are today under consideration.

I am sending you this because I want to see action on creating more Australian industry and jobs.

We can't take our prosperity for granted.


Sincerely,

Name
Suburb, postcode