What is natural gas?
Natural gas is methane. It is found in several different types of rocks, including sandstone, coal seams and shales.
Natural gas is a reliable, cleaner-burning fuel. It is flexible and plentiful and underpins growing domestic and export production sectors. 
Gas is used to generate electricity and to power appliances such as heaters and stoves. Unlike renewable energy, gas is reliable and flexible – unaffected by weather or the time of day, it can provide constant power. Unlike coal, gas produces relatively low emissions and can be easily turned on and off to meet spikes in demand or to fill gaps in other forms of power production (such as renewables).
Gas is also important in many industrial processes, including making fertilisers, glass, steel, plastics, paint, fabrics and many other products.
Where does NSW get its natural gas supplies?
More than 95% of gas used in NSW is imported from other states linked to the eastern Australian gas pipeline network (i.e. Victoria and South Australia). 
How long has natural gas been produced in NSW?
NSW has been producing natural gas since 2001. The Camden Gas Project in south-west Sydney produces gas from coal seams and supplies almost 5% of the state's gas needs. However, other gas projects have been earmarked for development in NSW.
How much natural gas is there in NSW?
NSW has abundant gas resources, but the exact amount is not known for certain. More exploration and appraisal is needed to develop a clear estimate.
However, a 2012 study undertaken for the Australian Energy Market Operator (AEMO) found that the state could have up to 85,950 petajoules of undeveloped gas resources. This would supply enough gas to meet more than 500 years of NSW's current demand.
Does Australia have enough natural gas for both export and domestic use?
Australia has more than enough gas for both domestic and export markets.
The country's supply is growing as new technology allows companies to produce from large reserves that were too difficult to access until recently.
Australia has an estimated 819 trillion cubic feet (TCF) of gas reserves (enough to power a city of 1 million people for 16,000 years).
In 2013, the entire Australian economy consumed only 1.1 TCF, with a further 1.1 TCF exported.
Why are gas prices rising?
Gas prices are now rising for several reasons, including increased development costs, transmission (pipeline) costs and restrictions on the ability of companies to access gas resources.
The cost of producing natural gas has risen, partly because Australia has become a high-cost economy in which to do business, and partly because once easily developed gas fields have been depleted, newer, more expensive ones must be developed.
Downward pressure cannot be placed on rising gas prices without expanding the natural gas industry.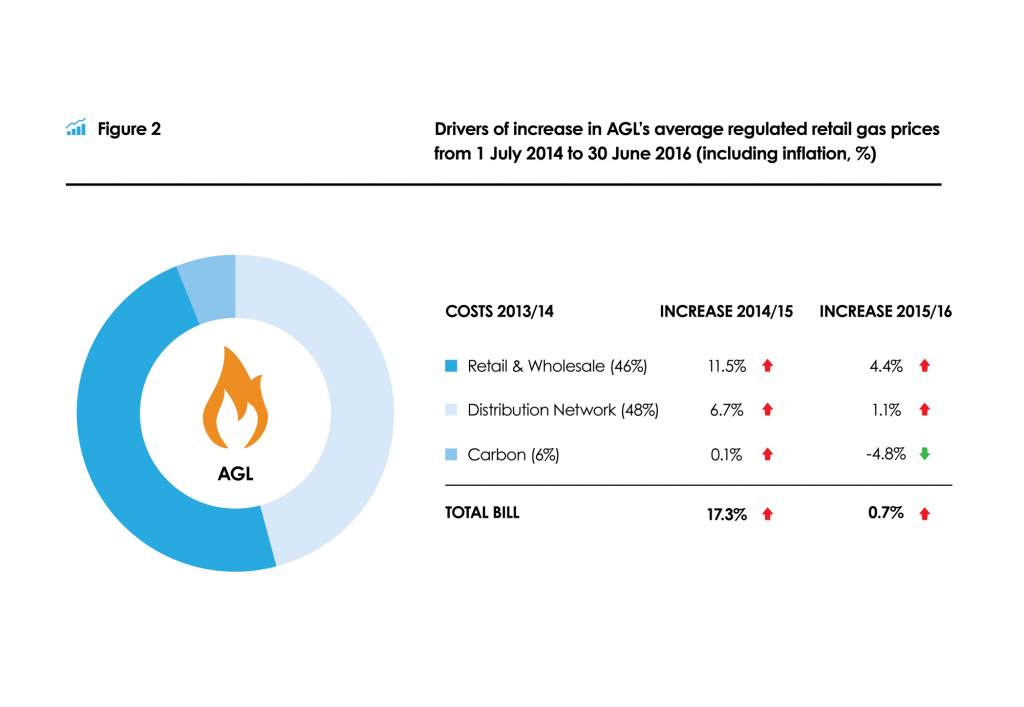 How secure are NSW gas supplies?
By failing to develop local gas resources, NSW has made itself vulnerable to periodic supply shortfalls.
The Australian Energy Market Operator (AEMO) has identified potential gas supply shortfalls in NSW, partly driven by "slow development of local coal seam gas reserves".
AEMO says new NSW gas production from the Narrabri Gas Project and the Gloucester Basin could reduce shortfalls in NSW to 47 TJ across four winter days in 2020, down from a previously forecast 2,083 TJ across 86 days projected. 
The NSW Department of Trade and Investment has warned that "Supply contracts are coming to the end of their terms with a huge decline in available supplies at current prices expected around 2016." 
In addition, the Eastern Gas Pipeline, which brings gas from Victoria, does not have sufficient capacity to meet winter peak demand for heating. Having a single source of supply raises significant security of supply issues.
What are the benefits of having a local gas industry? 
Locally sourced gas puts downward pressure on gas prices by increasing supply and reducing pipeline-related costs. (The further the end-user is along the pipeline chain, the higher the costs.)
It also enhances energy security by increasing diversity of supply.
A local gas industry also provides other economic benefits, including:
investment (Australian gas project investment currently contributes more than a third of Australian business investment)
job creation
regional development
tax revenue.
In the USA today, gas has become one of the nation's major economic drivers, creating more than a million jobs, while also enhancing the country's energy security.
How has developing gas resources helped Queensland?
As recently as 2007, there were advanced plans to pipe gas from Papua New Guinea to Queensland.
But today, Queensland is no longer a prospective gas importer. It is building a globally significant gas industry that has attracted investment worth almost $70 billion and currently employs thousands of people.
Gas companies have also contributed more than $150 million to local community projects and charities – from aeromedical air evacuation services to upgrades for local roads and town halls.
The Queensland gas industry is also expected to be a major driver behind Queensland's projected economic growth of 5.75 per cent in 2015-16.
How has developing gas resources helped regional areas?
The Queensland gas industry has revitalised towns in the Surat Basin region, as well as major regional centres such as Toowoomba and Gladstone.
A 2013 study by KPMG and a 2014 study by CSIRO have shown that gas developments are not only making regions more prosperous, but also making their communities more stable and socially sustainable.
KPMG found that in Queensland's Surat Basin – the region with the most onshore gas industry activity – between 2006 and 2011:
the population increased by 3.2%
the total number of dwellings increased by 8%
students finishing Year 12 increased by 4.3%
residents with tertiary degrees increased by 2%.
Despite the rise in population, the unemployment rate remained stable at about 4% – well below the Australian and Queensland averages.
The number of residents at the same address that they were living in five previously increased by 3.3%. So despite an influx of new workers, there are strong indications that locals no longer have to leave the region to find work.
In addition, in the last five years the retail trade sector has overtaken healthcare and social assistance as the region's largest industry of employment. This rebuts claims that money being made in the region is not being spent there.
These figures indicate that the resources sector – which in this case is mostly the gas industry – is making the Surat region more prosperous, stable and sustainable.